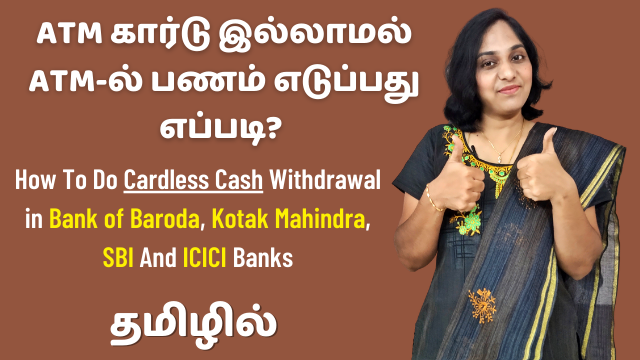 Conventionally, if you want to withdraw money from ATM, you would require an ATM or Debit card.
You would need to insert the card in the ATM, enter PIN and then withdraw the amount you need.
But recently various banks have introduced the method of cardless cash withdrawal where you can withdraw cash in ATM without using a debit or ATM card.
In today's video I explain the procedure involved to make cardless cash withdrawals in Bank of Baroda and Kotak Mahindra Bank – There is also reference to videos on how to do cardless cash withdrawal for SBI and ICICI!
How To Withdraw Money Without ATM Card Using The SBI YONO Cash App | SBI Cardless cash Withdrawal –
ICICI Cardless Cash Withdrawal in Tamil – How to withdraw cash from ICICI ATM without Debit Card? –