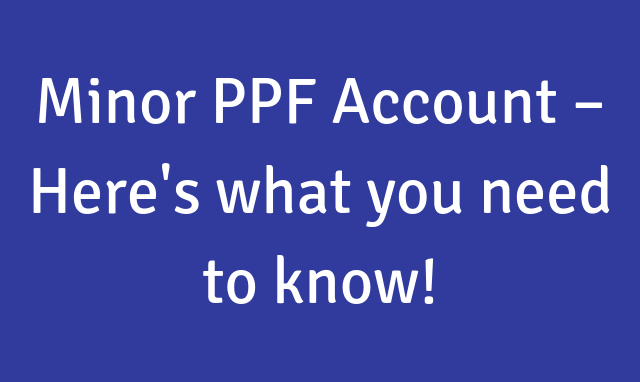 Planning is everything in life and when it comes to parenting, you need to plan your child's future very carefully.
Well, there are multiple solutions available to this problem but none of
them actually works in your favor; especially if you think about guaranteed return amount, tax benefits, etc.
This is where creating a PPF account for a child might help a parent. It is a type of small savings scheme which comes with the tax benefits and is tailor-made for the children.
As a guardian you can open a minor PPF account, and until the child turns 18, the guardian will be responsible for all the account operations.
Apart from having the tax benefits, PPF accounts have other usefulness as well.
Related reading:
For example, one can ask for a loan for his or her child, or make partial withdrawals in emergency cases, etc.
Here are a few things that you need to know before you can go ahead and start a PPF account in your child's name:
Only one of the parents / guardians can open a minor PPF account on behalf of their child.
Any legal guardian / grand parents can open a PPF account in absence of parents of the said child.
Only a few designated bank or post offices have the authorization to open a PPF account.
Minimum amount to open a PPF account is INR 100 Minimum amount to be deposited in a year is INR 500 and maximum amount is INR 1.5 Lakhs.
In case the guardian or the parent owns a separate PPF account, the maximum amount that can be deposited including both the PPF accounts is INR 1.5 Lakhs in a year.
Since the amount that the parents deposit in their child's PPF account is from their income, they can get certain amount of tax benefits under Section 80C.
When the child turns 18, he or she will be the owner of the minor PPF account and the guardian have to submit an application to change the account status.
To submit a revised application, the guardian will have to submit all the required documents along with signature of the child, once he or she turns 18.
The guardian may choose to withdraw a partial amount of money from the minor's PPF account but only for the cause of the minor and this is only possible after the PPF account is 7 years old.
In certain situations, as a guardian, one may choose to close the PPF account.
Only in case of medical needs one will be granted a permission to close his / her minor's PPF account, but only after the account is 5 years old, and they will have to produce required documents from the corresponding medical authority.
In case one needs money for his / her minor's higher education, the parent may also choose to close the PPF account, but they will have to wait for 5 years after the PPF account is opened.
One can opt to take a loan from the PPF account but only if the minor needs one and the parent will have to produce the required documents for that.