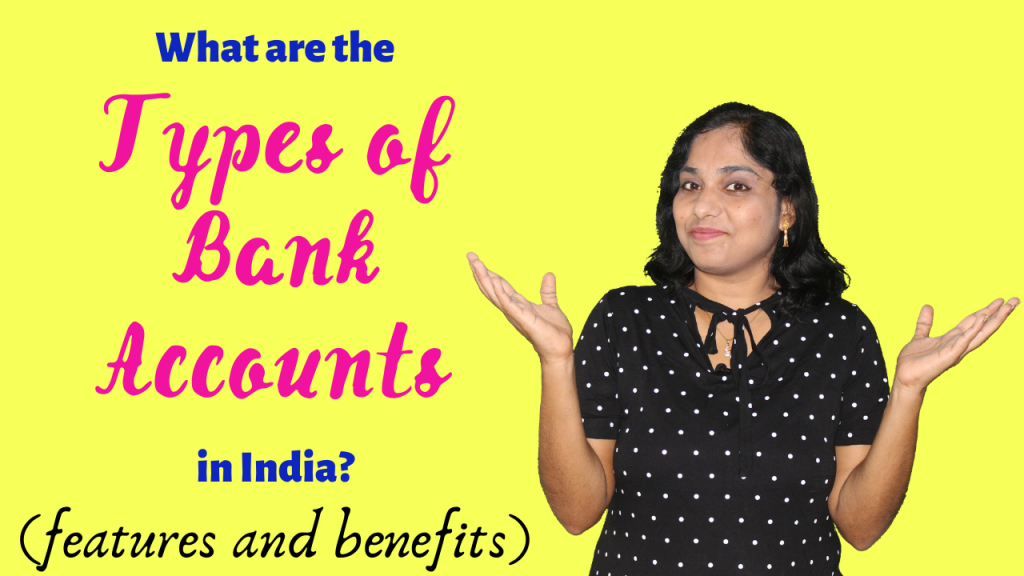 We are more and more into digital transactions. We want comfort.
More than going to the bank physically, we all prefer some sort of digital option to perform certain banking tasks.
Banks are improvising in this direction and hence most banks have their official apps so customers can use them to perform basic banking tasks.
In addition, having a bank account has become somewhat mandatory for various reasons.
If you are salaried, you are most probably asked a bank account so your salary can be credited to.
Even if you are unemployed, if you have EMIs, or if you want to receive subsidies from the government, you need a bank account.
Hence, the number of bank accounts that are being opened is only increasing.
However, it is not straightforward for everyone to walk into a bank and open a bank account that suits their needs.
And that's why you need to have knowledge about the type of bank accounts that prevail.
Knowing the type of bank accounts and also about the features and benefits of each of those accounts will help you choose the right account for your needs.
We shall see that right here in this post!
Savings bank account (SB Account)
This is one of the most common types of account and the most conventional one too.
A savings account is where you can deposit your surplus money that you don't need immediately, so it can earn some interest.
Unlike a fixed deposit though, the money here is liquid. You are free to withdraw any amount of money from your account any time without any restrictions.
To help you with that, you will usually be provided with the debit card for your account by your bank.
Using your card you can make certain number of transactions per month and make use of your money.
Transactions include, withdrawing money from ATM as well as using your card for online and offline purchases.
The money in your savings account will fetch interest quarterly. The interest depends on the bank, but it usually varies from 3.5%-5% per annum in the case of public sector banks.
With some private banks, the interest rate is higher.
So when you have a savings account, you can count on that money as emergency fund that you can withdraw and use in case you need it immediately.
At the same time, your money will also earn a decent interest while it rests there.
Also a savings bank account will only require you to maintain a lesser amount of money as minimum balance compared to other accounts.
Some banks even have accounts that do not require you to maintain a minimum balance – usually called as zero balance account or a no frills account.
However, if you manage to maintain a certain amount of money as average minimum balance, some banks would offer you discounts with their locker facility.
Current Account AKA checkings account
A current account is usually used for business purposes. Businessmen usually avail the current accounts either as a sole account holder or in joint with someone.
Since businesses require frequent transactions on a regular basis, corporate companies, big firms and business owners have this type of account.
However, the money in your current account doesn't earn any interest.
The money in a current account is very liquid and is always in the flow.
Even though a current account doesn't give you any interest on the money, banks may charge you with service charges.
Usually with a current account, overdraft facility is available, but it generally comes with a fee.
So you have to be careful about making overdraft transactions!
Fixed Deposit account (FD)
This is most commonly called an FD account.
When you have some surplus cash with you that you don't need for a while, you can make good use of that cash by depositing it in a fixed deposit account.
You can deposit your money for any fixed amount of period starting from 7 days going up to 10 years.
The longer the period, the higher the interest rate. The interest rate usually varies between 4%-7.5%.
You can also draw loan against the money in your FD account.
And an added benefit to the FD account is that, even though banks often make changes to their FD interest rates, you will definitely receive the interest you were promised when you initiated the deposit.
The only downside is that as the name suggests the money in the fixed deposit account is well… fixed.
You cannot count on it for emergency needs, which is why you only need to deposit your surplus cash that you don't need for emergencies.
Usually there will be a pre-closure charge and perhaps a cut in the interest if you have to withdraw the amount in your FD account before the maturity period.
You can either choose to get the FD maturity amount to be deposited in your SB account or roll it back again automatically as another FD.
Recurring Deposit (RD)
If you want to get yourself into the habit of saving regularly, RD is a good option to do so.
A recurring deposit is nothing but an account where you pledge to deposit a fixed amount of money every month for a fixed amount of period.
The amount of money you choose to deposit every month can be as little as Rs. 100 and the tenure can be anything from six months to ten years.
Just like FD, the interest rate for RD is higher than the regular deposits. It differs with different banks and usually ranges from 3.5%-8.5%.
And just like FD, the longer the period, the higher will be the interest.
You can open a RD account if you are a minor above 10 years of age, and also if you are a major.
And you can open your RD account either as a sole person or as a joint account.
Similar to FD, you can get a loan against your RD money as well.
You cannot terminate your RD before maturity period.
Once the maturity period is completed, the maturity amount will be credited to the bank account of the depositor – the account which he/she specified to deposit the amount while opening the RD account.
Certificate of Deposit (CD)
A CD is an agreement you make with your bank and deposit a specific amount of money for a specific amount of period, for which the bank will pay an interest (usually higher than your regular SB interest).
The minimum amount you can deposit in a CD is Rs. 1 Lakh.
You can open a CD as an individual or on behalf of your financial institution.
CD also comes with the interest guarantee.
You get the interest you were promised when you opened the CD when it matures no matter how many times the interest rate is revised by the bank.
On the downside, if you have to withdraw the money from your CD, you will incur a fee that's on the higher end.
Flexi deposit account
This is just like a fixed deposit account, but as the name suggests this comes with flexibility.
Some banks even call it a Savings Plus account.
Unlike a FD you can withdraw the cash in the Flexi deposit account whenever you want.
The amount you can invest in this account varies with different banks. The tenure is not fixed and is flexible.
But the longer you leave your money in there, the higher the interest.
Public Provident Fund
A PPF account can be opened by any individual. However a person can only have one PPF account.
He/she may open another PPF account on behalf of a minor.
A PPF account fetches higher interest rate compared to other accounts – It is currently in the range of 7.9% though the interest rate is revised now and then.
With a PPF account, you can deposit a minimum of Rs. 500 to a maximum of Rs. 1.5 lakhs per year.
To be precise, you CAN deposit more than Rs. 1.5 lakhs per year in a PPF account but the excess money won't earn any interest.
You can make the deposit either in lump sum or in installments throughout the year, the maximum number of deposits allowed is 12.
The amount you invest in your PPF account as well as the interest it earns come under tax exemption.
On the downside, the tenure of a PPF account is 15 years. This means the money you deposit in a PPF account cannot be withdrawn and be used for other purposes before the maturity period.
However, this is also a big plus in terms of savings.
You can plan your savings accordingly and aim to save a lump sum for future big shot expenses like paying your child's college fees, investing in a business, or something similar.
The tenure of a PPF account can be extended in blocks of 5 years.
You can also avail loan against a PPF account!
If you wish to transfer your PPF account to another branch, or bank or to a post office, you can do so without losing the benefits of the account.
Check this video out to know how!
Sukanya Sammridhi account
This is very similar to a PPF – just that it can only be opened in the name of a girl child. The purpose of the account is to secure the future of a girl child.
The current interest rate of a SSA account is 8.5%.
Tax benefit applies to deposits of up to Rs. 1.5 lakhs per annum, just like a PPF account.
The account matures once the girl child reaches 21 years of age.
Usually the amount can be used to pay the college fees, in which case necessary documents from the educational institution have to be produced.
Or if the girl is getting married, the account can be closed (considering the girl's age is 21 or above.
Premature withdrawal is not allowed generally, but is allowed in rare cases where the moves out of the country, or is getting married soon and the money is needed or if she dies – in all these cases, appropriate documents must be submitted to the bank to withdraw the money.
Those are some of the most common bank accounts prevalent in India.
Apart from these, there are some banks that provide the facility to have zero balance accounts, accounts specifically for women, and minor accounts with appropriate benefits.
Different banks name these accounts differently.
I hope this post would have shed you some information about the types of bank accounts available.
So when you think of opening a new bank account, choose the right one for your needs.