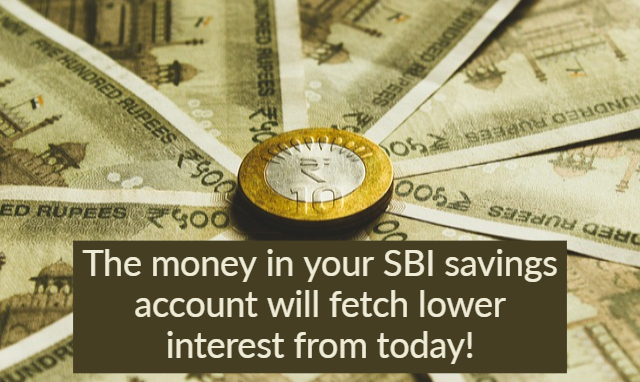 As per the announcements made by SBI, there will be a cut down in the interest rates for FD accounts.
Interest rates in SBI have been ever decreasing and this was announced earlier this October.
As it stands, SBI is going to lower their interest rates for the savings deposit accounts right from Nov 1 as well.
SBI had announced about their revised rates earlier in October.
Right now the interest rate on savings deposit accounts is 3.5% which is set to be come down to 3.25% but this is valid for only those accounts having a balance amount of less than 1 lakh.
With a deposit amount of 30 lakh crore, SBI is known to be the largest amongst the commercial banks in terms of deposits, branches, employees, customers and assets.
If you are having a savings account with SBI, here are 5 important things that you need to know:
SBI has been trying to improve liquidity in the banking system for long now.
SBI had also announced a decreased interest rate for the FD accounts with selected maturities as well. This has already been in effect from 10 th of October.
This year Reserve Bank of India has also come up with a lower interest rate by a combined 135 basis points.
They have been trying hard to work through adequate liquidity in the Indian banking system.
This will not only help in boosting credit offtake but also will help in faster transmission in rate cuts as well.
For those savings accounts with a balance of more than 1 lakh, SBI has decided to offer an interest rate of 3% per year which is similar to the current rates.
Linking savings account interest rates to the repo rate offered by the RBI was first implemented by the SBI in India.
The new system was rolled out on May 1, 2019 and applied to all savings accounts with larger balances.
For accounts with balance above 1 lakh, the interest was fixed at 2.75% lower than the RBI repo rate. However, all such deposits will earn a minimum 3% interest.
Earlier SBI had cut down the interest rate for savings accounts having a balance of more than 1 lakh to 3%.
This has been due to the rate cuts by RBI, but SBI hasn't announced any change in the recent interest revisions this October.
Savings account holders can now enjoy a tax free interest up to 10,000 per year.
As per the Income Tax Act Section 80 TTA, senior citizens can have the same benefit with the limit up to 50,000 per year.