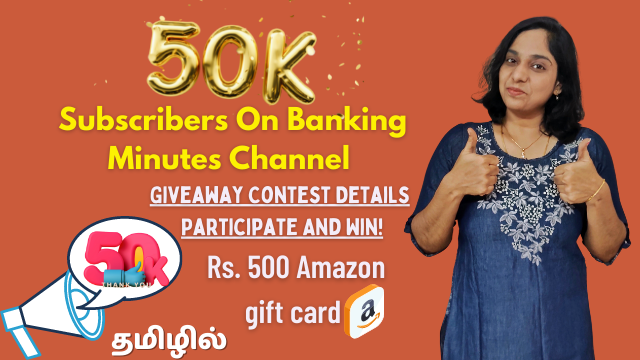 To participate in the contest fill out this form (Contestஇல் பங்கு பெற இந்த linkஐ கிளிக் பண்ணி formஐ fill செய்யவும்) – https://www.bankingminutes.com/50k-subs-celebration-giveaway-contest-announcement/
Thank you so much for making this happen! At the time of making this video, the channel is approaching 50K subscribers. I originally did not have any plans to "celebrate".
But I got a few subscribers (who are in touch with me in social media) ask about having a live session, or a contest, giveaway, or anything like that to register this 50K subscriber milestone. So I thought to do this.
The contest is simple, click on the link above and fill out the form where you answer 3 questions. Once you submit the form, I will get an email 🙂
I will pick the top 10 responses and each winner will receive an Amazon gift card worth Rs. 500 – when you shop on Amazon you can enter this card number and avail Rs. 500 worth of amount in your shopping bill!
Thank you so much once again.
Don't wait – click on the link and fill out the form now to enter the contest – https://www.bankingminutes.com/50k-subs-celebration-giveaway-contest-announcement/