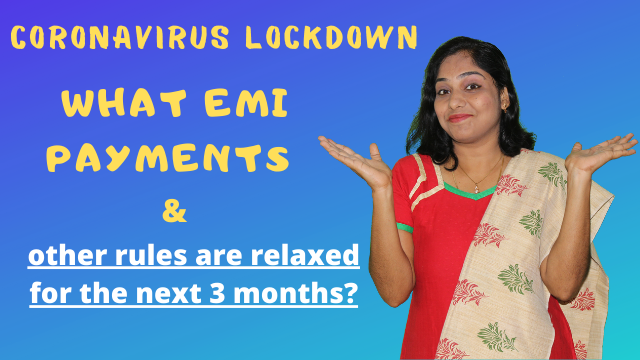 The Coronavirus outbreak has created a lot of chaos in various areas. Economy is one area which is badly hit.
The Indian government has made a few announcements recently to life some weight off the shoulders of its citizens.
Even though these announcements do not help ALL of the people, it does help a huge number of people who pay monthly installments.
Let's see what are all the EMIs that you don't have to pay for these three months, plus other rules that are relaxed in this video.
All monthly EMIs don't have to be paid for these three months. This includes EMIs for loans.
If you have a personal loan, vehicle loan (two wheeler or a car), home loan, business loan, corporate loan – you don't have to pay the EMIs for the coming three months.
The three month exemption also includes EMIs on mobile, or other home appliance purchases.
In addition if you have availed a loan against your credit card, you don't have to pay that EMI as well for the upcoming three months.
Regarding jewel loans, if you are paying monthly interest for your loan, you will be exempted from paying emi for the next three months.
However you are paying yearly interest, there is no exemption announced as of now.
The fact that you won't be paying EMIs for these three months doesn't mean your EMIs will be waived for the three months.
You will still have to pay them after these three months – on how you will be paying that is not yet announced. And the interest for those EMIs will continue to accumulate during these three months.
And the non-payment of EMIs for these three months will not affect your credit score.
Since this announcement is made by the RBI, your loans with ALL the banks, irrespective of whether it is a public sector or private bank, will come under this exemption. 
If you work in a company or in a government firm, for the upcoming three months, there won't be any PF deductions in your salary, if your salary is less than Rs. 15000.
Rather your employer (government or a private company) will take care of your PF deposit for these three months.
Regarding salary – the government has insisted that no salary cut has to be implemented on employees who work from home.
But how many companies will strictly follow this depends on the corresponding company's administration.
For now let's hope that these relaxations will help the salaried to some extent in these difficult times.
Apart from these, the deadline for IT filing has been extended
You will also be exempted from paying the water bill for the next three months, if your water connection is used for domestic purposes.
No meter reading will be taken for electricity billing purposes for these three months.
When reading resumes, it will be averaged for three months. In addition there will be a 30% cut in your electricity bill for these three months.