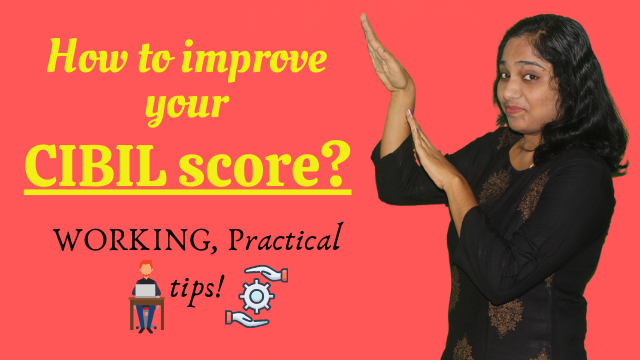 In the last video, we saw what a CIBIL score is. In today's video let's see how you can improve your CIBIL score.
Maintaining a good CIBIL score is a good and essential thing. Not just for getting a loan, but it displays your good financial status.
Also it is a self assuring thing to have a good CIBIL score as it means that you manage your money well.
A good CIBIL score is above 750. Something above 600 is not too bad. But a CIBIL score below 600 means your score is very bad.
Unless you have a very good CIBIL score of say, above 700, you must do whatever needs to be done to improve your CIBIL score.
So let's see how to do it!
#1 Pay your credit card bill(s) properly, on time
This is one of the very basic things you need to be doing to maintain a good CIBIL score.
If you have credit card(s), make sure you pay the bill on time, regularly.
Unless there is any critical reason, you must make sure you pay the bill in FULL before the deadline.
If you have a critical financial situation any particular month, make sure you at least pay the minimum amount as shown in your bill.
Your credit card bill will show you two amounts – Minimum amount and Full amount.
Mostly, people will think that it is enough to pay the minimum bill, or they think it is easier for now to pay the minimum bill and keep paying the same.
This is a very bad credit card habit.
Not only will you start to build up high interest debt pretty fast, but you will also damage your CIBIL score pretty badly.
Instead pay your credit card bill in FULL always. If you are afraid you might forget, set up auto debit for paying your credit card bill.
#2 Your credit utilization ratio
It is important that you maintain a low credit utilization ratio, ideally less than 30% of your credit limit.
Having a credit card means you are just a swipe away, or an OTP away from spending online, even if you don't have money on hand, or in your bank account at the moment.
It is very comfortable to make a purchase without having to think about how much money you have right now.
At the same time, utilizing all of your credit limit every month will send a bad signal and will negatively affect your CIBIL score.
So the next time you think about making an unnecessary purchase or even a necessary purchase using your credit card when you don't have money on hand, better hold on.
Another option is to increase your credit limit.
If you have been properly paying off your credit card bills and if you have been using up your credit limit continuously, usually you will be offered for an increase in your card limit.
In that case, take that offer and increase your credit card limit. After that, make sure you don't keep spending again to the full of your new credit limit.
#3 Pay your loan EMIs on time
Just like how important it is to pay your credit card dues, it is very important that you pay your loan EMIs too, regularly.
In particular, make it a point to pay your EMIs before the due date.
The more you miss the due date, the more it will reflect in a negative way on your CIBIL score.
#4 Take a closer look at your CIBIL score report
Check your CIBIL score regularly (but not so frequently) and see if your loans and cards are properly taken into account. It is good to look at your CIR once in 6 months.
Sometimes, there could be your closed loans or your old/closed credit cards that are still taken into account in your CIBIL report.
When you check your CIBIL score don't just check the numbers. It is very important that you take a closer look and see if any of your old, closed loans are still included in your report.
Also, sometimes, any of your closed credit cards might also be considered.
In addition, there can also be some irrelevant loans, or loans that are not yours that could be reflecting in your CIT.
If you spot anything like that, make sure you contact CIBIL and get those properly attended to.
As to how to contact CIBIL is a topic for another video. I will address that in a separate video.
#5 Watch out the loan tenure
When you apply for any loan, make sure you choose a tenure that's safe.
Even if you are capable of paying off a loan in say 2 years, choose a tenure of 3 years just in case.
If you choose 2 years and if, for any unexpected reason, you are unable to pay off the loan within that tenure, you will not only run into legal trouble but your CIBIL score will also be badly affected.
#6 Pay off a high interest loan with a low interest loan
If you have gone overboard with your credit card limit, it will definitely affect your CIBIL score badly. Plus the interest on outstanding credit card bills is very high!
Also a credit card loan is a high interest loan.
In either cases, you could take a personal loan to pay off your credit card loan, or a bulk of your credit card dues.
This way, you not only manage your money well, but will also improve your CIBIL score.
#7 Fix your inability to make EMI payments on time
If you have been frequently missing EMI due dates and are unable to pay them on time, it is important that you review your financial standing.
For one, you must not indulge in any new EMI generating loans or purchases when your finances are tight.
With the existing EMIs, if you are unable to pay them on time, you could consider negotiating with your bank or financial institution and either demand for an extension in tenure.
An extension in tenure will save you definitely and will improve your CIBIL score.
#8 Do not close a credit card
If you are particular about improving your CIBIL score for an urgent loan, do not close your old, unused credit card.
Closing your credit card implies that you are unable to manage your credits properly and hence closing it.
This will negatively impact your CIBIL score.
So if you are planning to particularly improve your credit score, better don't close any credit cards for now.
The longer you hold your credit cards (and manage them properly) the better will be your CIBIL score.
There you go – practical tips to improve your CIBIL score. Follow these tips for a few months, say 6-8 months, and you can substantially improve your CIBIL score.