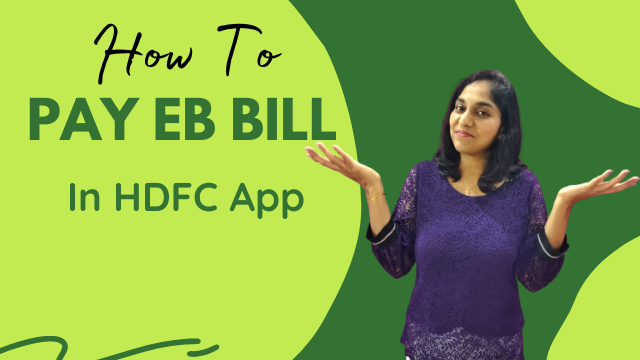 Paying EB Bill can be a daunting task to many. And it is highly important that you pay your electricity bill on time to avoid disruption of current supply to your home.
You need not step out of your house to get your EB Bill paid. You can pay your electricity bill using various apps.
If you have account in HDFC bank and if you use the HDFC mobile banking app, then you can pay your EB bill (and many other bills) using the app.
Watch today's video where I demonstrate how to pay EB bill using the HDFC app.
How To Pay EB Bill Using Gpay App? Google Pay App EB Bill Payment Demo | Link EB Number To GPay App –
HDFC Mobile Banking App Registration Overview | How To Install, Set PIN, FingerPrint Lock | Demo –
How To Pay Electricity Bill via Airtel payments bank | Pay EB Bill Online App Google Pay –
How To Pay EB Bill Online In A Few Minutes Without Stepping Out Of House? TNEB Online Bill Payment –
HDFC Mobile Banking App Demo | How To Transfer Money, LIC Premium (Bill) Payment Demo –