As per the Financial Bill of 2019, you must link your PAN card to your Aadhar card.
Earlier the deadline to do this was 30th September, 2019. Now, the deadline has been extended. But it is highly unlikely that the current deadline could be extended any further.
So you need to make sure you get the process done (which is quite easy, as described below) before the deadline.
What will happen if you fail to link your PAN card to your Aadhar card before December 31, 2019?
Well, according to the official announcement, your PAN card, if not linked to your Aadhar card, will be considered "inoperative".
This means your PAN card will become invalid. The government will not consider the existence of your PAN card or see it being in operation.
This is bad because you cannot get your PAN card identified with any of the other services you have already linked it to – like, for instance, your bank account, your IT filing etc.
Furthermore, you can now provide your Aadhar number in places where PAN is needed.
And if your Aadhar card doesn't have the PAN card linked to it, you will be automatically issued a new PAN card in association with your Aadhar card.
And, obviously that only leads to more confusion as you have to again update your new PAN card in places where you have already updated your old PAN card!
So it is better to get your linking done now.
How to link your PAN card to your Aadhar card?
The process is very simple. And you can do it in two ways.
Link PAN card to Aadhar via E-Filing portal
You can do it via your E-Filing portal. Go there and click on the Link Aadhar option.
On the next page (shown below) you will need to enter your PAN card number, Aadhar number and your name as in your Aadhar card.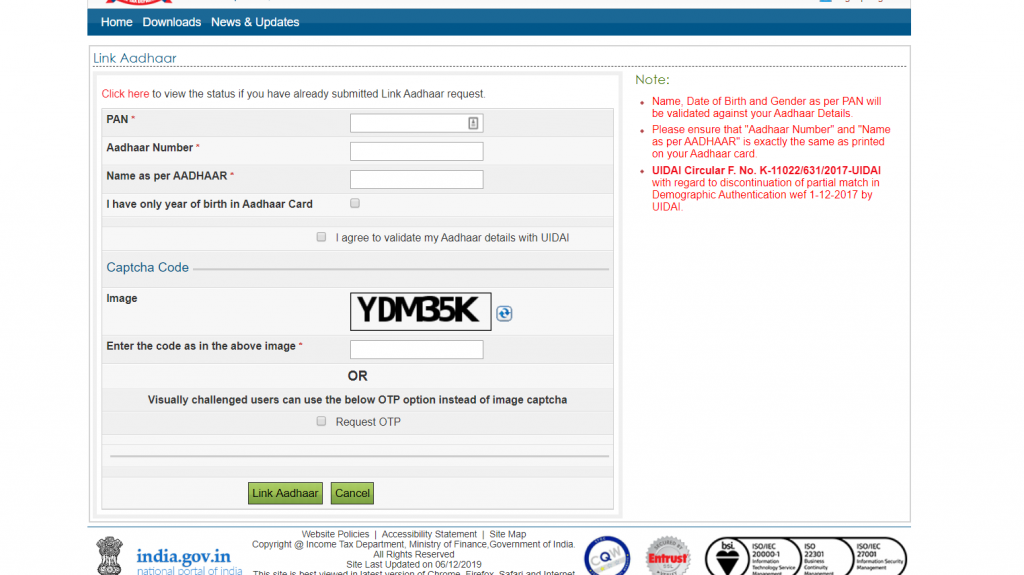 Once done, click on Link Aadhar and the process will begin.
If you have already done this and don't know the status, you can check its status in the next page.
Link PAN card to Aadhar by sending SMS
You can also do this linking by simply sending an SMS.
Send the following SMS to either 567678 or 56161: UIDPAN<SPACE><12 digit Aadhaar><Space><10 digit PAN.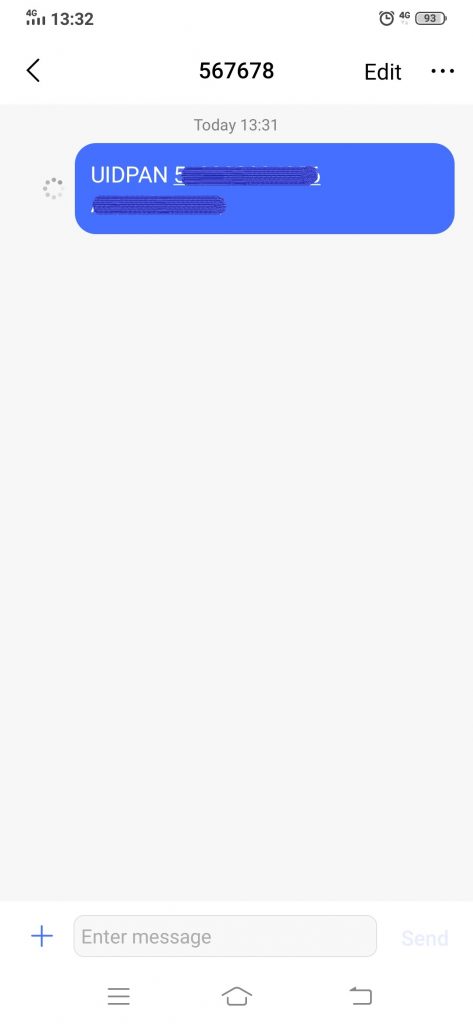 That's it.
In either case, it is important that your name and other details are the same in both you PAN card and Aadhar card.
If there is a slight mismatch, then the linking process will be carried out by authenticating via OTP.
If there is a total mismatch, unfortunately, the linking will not be successful.
You need to change your name either in PAN card or in Aadhar and then re-attempt the linking process.
Don't forget to get this simple process of your PAN card linked to your Aadhar card before the deadline of December 31st, 2019 and avoid any unnecessary complications!