Aadhar is one of your crucial identity proofs that plays important roles in many places.
Even though Aadhar number was not said to be mandatory for certain things, it is still mandatory for getting things done easily.
For instance, if you want to get your LPG subsidy to your bank account, as of now, having your Aadhar number linked to your bank account helps.
So it is only wise to do this and not worry about whether government changes the rules regarding this or not.
There are five ways in which you can link your Aadhar card to your bank account and we will discuss them one by one.
Even though for illustration purposes I use a particular bank, the procedure is very similar in almost all the banks.
Option #1: Online method
In this method you can either use mobile banking or net banking options to get your Aadhar linked to your bank account.
Login using your username and password. Once logged in, you will find an option like Aadhar seeding or Register Aadhar number, or something similar.
For instance, see the below image in KVB Net banking. You need to go to Profile > Aadhar seeding.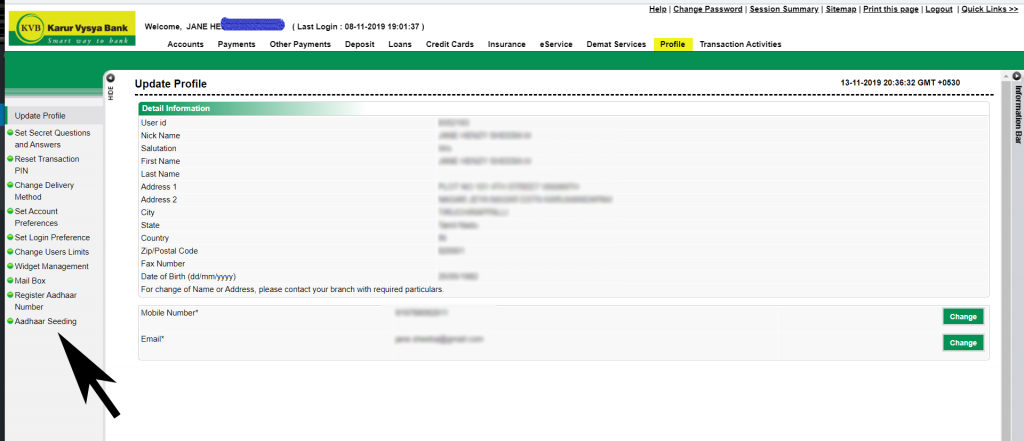 And it is similar too in Indian Bank: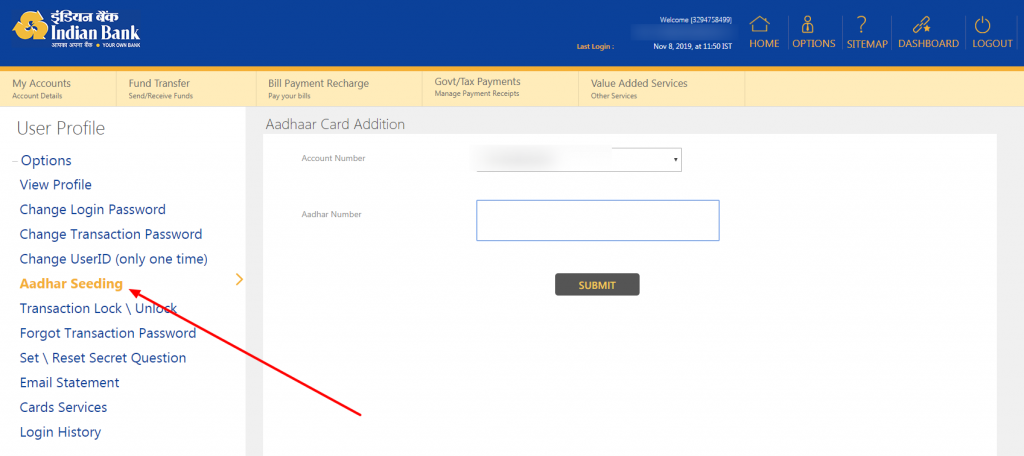 Then you need to select the account number you want Aadhar to be connected to. 1
And then enter your 12 digit Aadhar card number. And then, click submit.
Your Aadhar card linking process will start.
You can do the same using your bank's official mobile app too.
Option #2: Visit your branch
This is a straightforward option but not always the most comfortable one because you have to get out and visit your branch.
Get to an appropriate counter and ask for the Aadhar linking form. You will be provided with one.
Fill out the details in the form like your name, your bank account number, your 12 digit Aadhar card number etc.
To submit the form, you will need to accompany it with a self attested copy of your Aadhar card.
Once you submit the form, the bank staff will initiate the process. And once the process is complete, you will get a confirmation message.
Option #3: Link your Aadhar card via ATM
You can visit your nearest ATM and do this.
Insert your ATM card in the ATM and enter your PIN number.
Now you will be presented with a few service options – these options will vary slightly for different banks.
For instance, see below the ATM options for ICICI bank: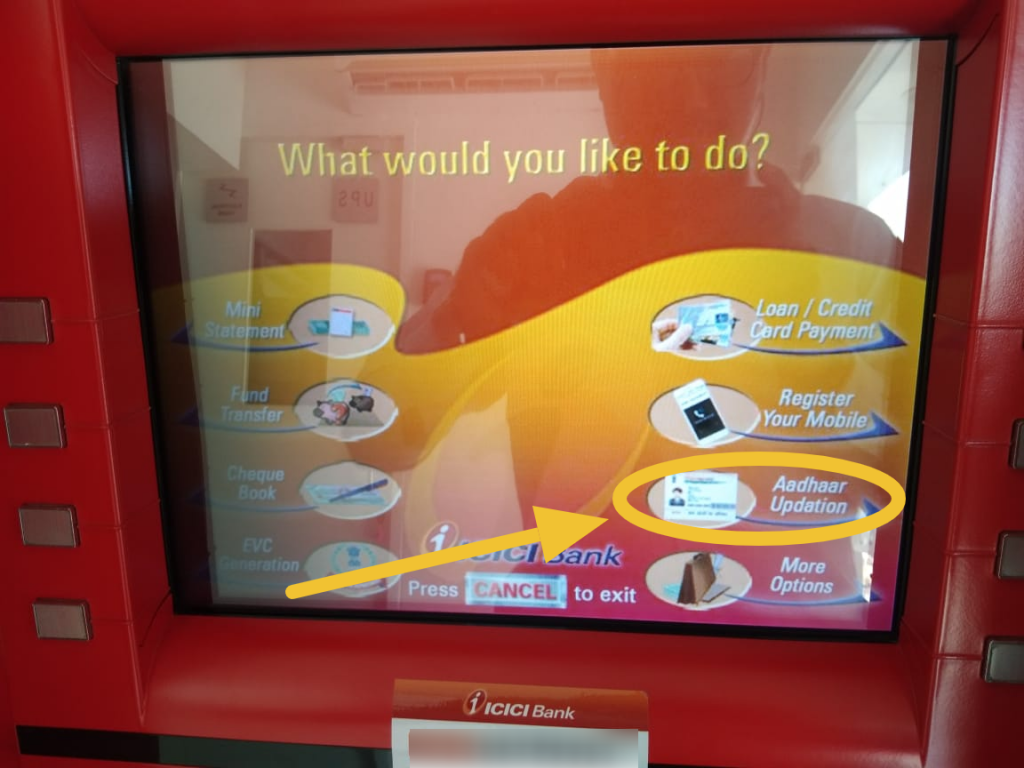 Here, you need to select the Aadhar Updation option and then follow the prompts on the screen.
Ideally you will have to type in your Aadhar card number, and submit for the process to begin.
Option #4: IVR method
Every bank will have a dedicated number for this purpose. Call that number.
In some cases, certain banks would want you to give a missed call to a particular number and they will call you back.
In either case, you will be prompted to enter your 12 digit Aadhar card number and any other additional details.
Once you finish entering all the required details, your linking process will be initiated.
Option #5: Send SMS to link your Aadhar card to your bank account
You will need to use your registered mobile number for this option.
And, you have to send an SMS to a specific number.
For instance, if you are an SBI customer, you need to type:
UID <space> 12-digit Aadhaar number <space> Bank account number
and send the SMS to 567676 from your registered mobile number!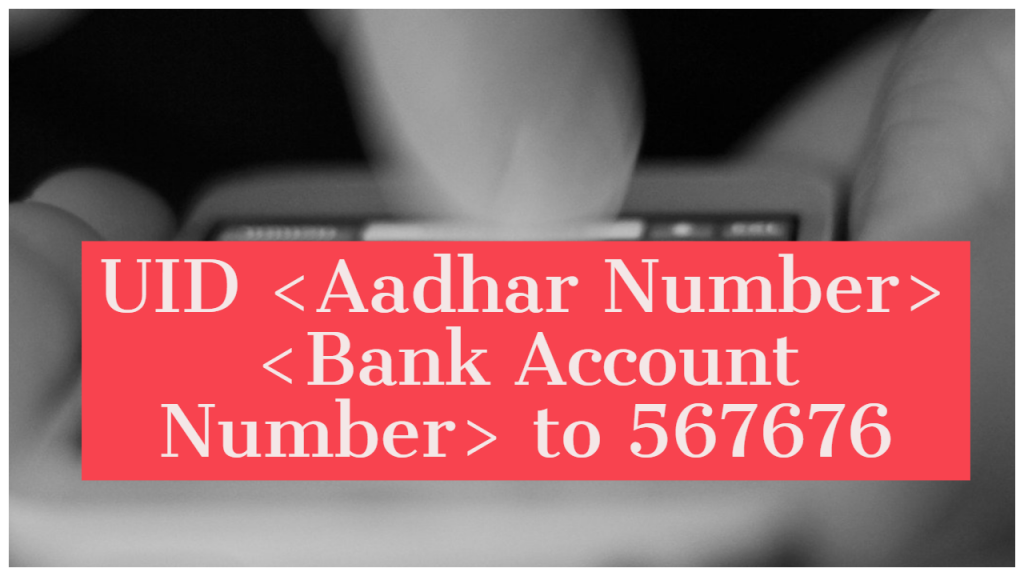 And that's it, your Aadhar linking process will begin and you will receive confirmation message.
That's it. You have 5 options and you are free to choose whatever you option you feel comfortable with.