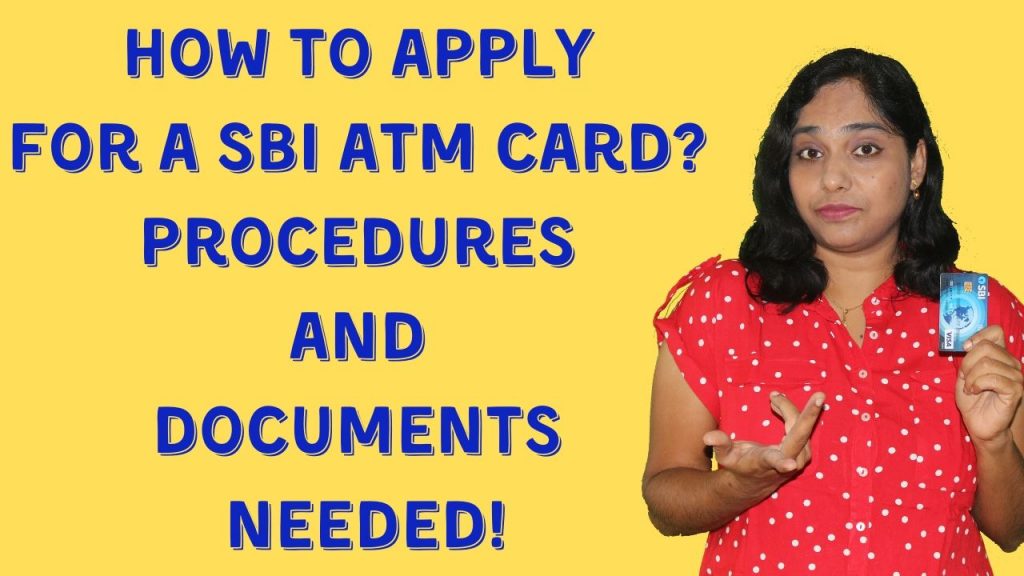 Having an account in SBI gives you an edge over other bank account holders.
SBI makes it easier to perform money transfers for Government exams or to any Government sites.
Being the largest bank, you can find ample branches and ATMs to help you with your service needs.
And, for the same reason, making any kind of transaction with an SBI account is always possible and easier.
And recently with the arrival of YONO app, many banking tasks can be made right from your comfort zone.
So, when you have an SBI account, how can you apply for an ATM card?
You can apply for your SBI ATM card either by visiting your bank branch or via internet banking.
Method 1: Visiting your branch
While you visit your branch to apply for a SBI ATM card, you need to carry the following with you:
The original and photocopy of your PAN card.
Address proof – any of these will serve the purpose: copy of your Aadhar or Driving License or Voter ID, or Ration Card, or Passport.
These documents are mandatory.
If you have already linked your PAN card to your SBI account, then you need not take your PAN card with you!
In case you don't have a PAN card, you need to fill out FORM 60 to apply for ATM card.
Address proof is mandatory.
Make sure your document has your correct, current address as your ATM card will be delivered to this address.
If you don't have any address proof for your current address, you can also submit any of the following temporary address proofs:
Electricity bill.
Gas bill.
Rental agreement.
Authorized letter from employer or organisation.
The temporary address proof is valid for three months. After this period, you need to either extend your temporary address, or submit a proof for your permanent address!
At your SBI branch counter, ask for an ATM application form and fill it out promptly.
Carefully write your current address and your PAN card number.
After promptly filling the form, sign it and submit it to the counter along with the required documents.
The staff will verify your details and will initiate the process of issuing your ATM card.
Method 2: Apply via Internet Banking
If you wish to apply for your SBI ATM card via net banking, login to your internet banking account.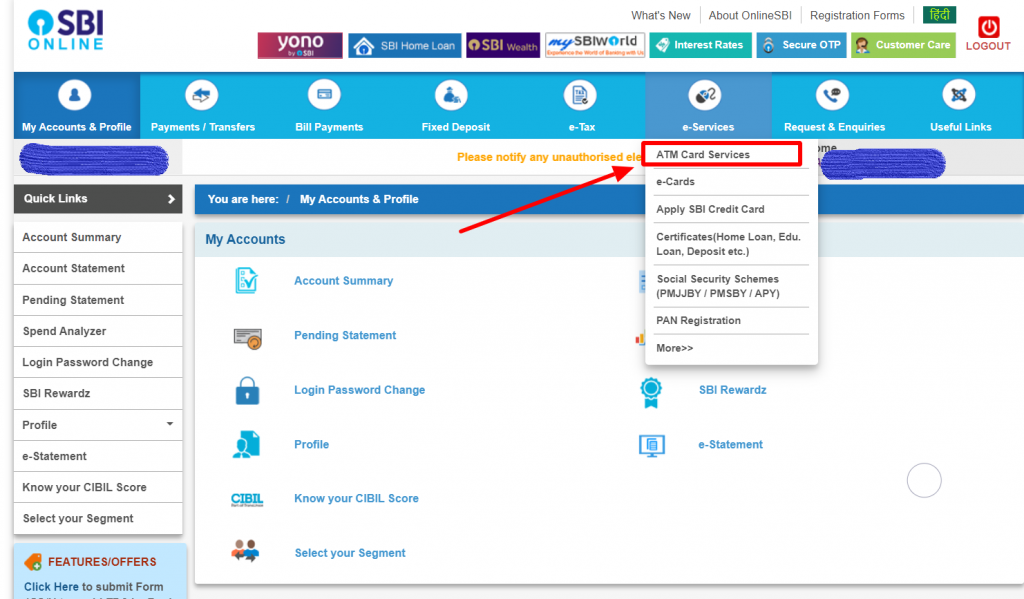 Under e-services click on ATM Card services.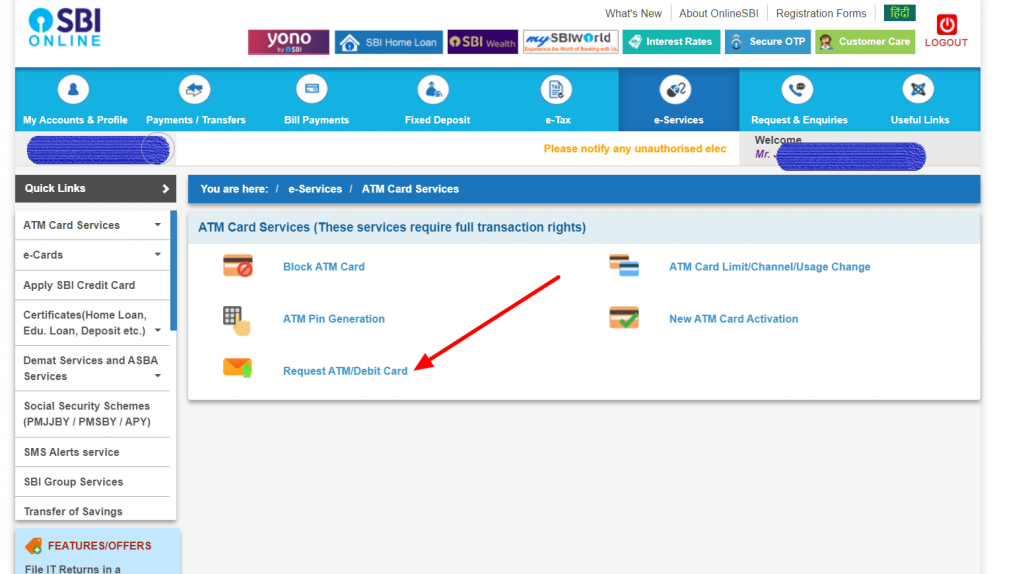 Then click on Request ATM/Debit card and select the account number.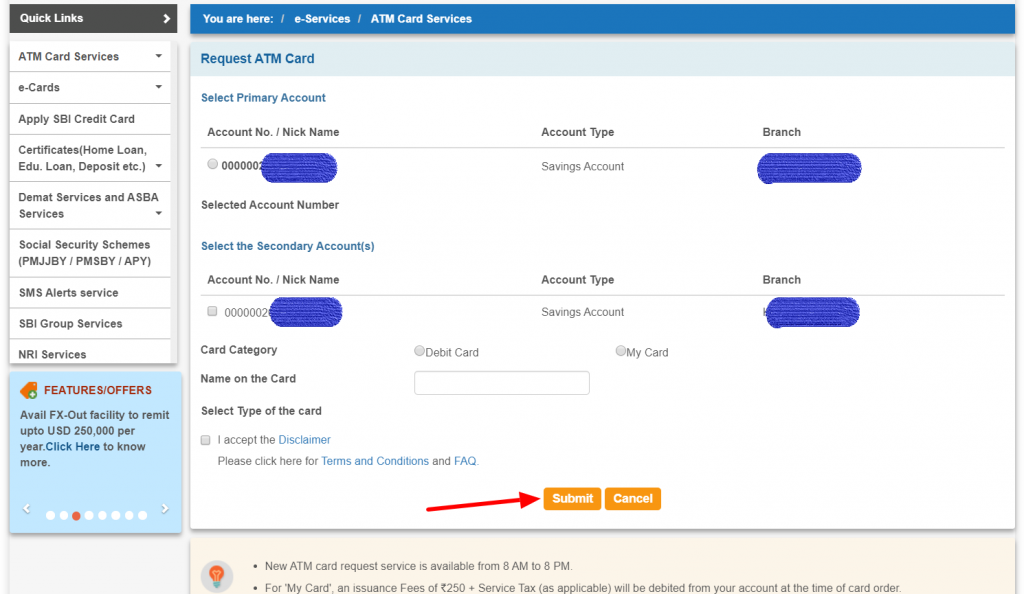 You will have to type the name that you want to be printed on the card. Then confirm the same.
Now your ATM card request will be placed.
Delivery of your ATM card
After you applied, ATM card will be dispatched to the address in your account within 7-10 working days by the Government postal department.
When the card is dispatched, you will get a message for the same.
During delivery the account holder should be present to receive the ATM or it will be returned.
What happens to the returned ATM kit?
If the account holder is not available at that address during deliver or if the address is wrong, then ATM kit will be returned to the customer's home branch.
You will get a message that the ATM kit has been returned. You will be charged INR 100 + GST and this charge will be debited from your SBI account.
So you need to make sure that your address, KYC and your mobile number are up-to-date and updated in your SBI branch to avoid any trouble and charges.