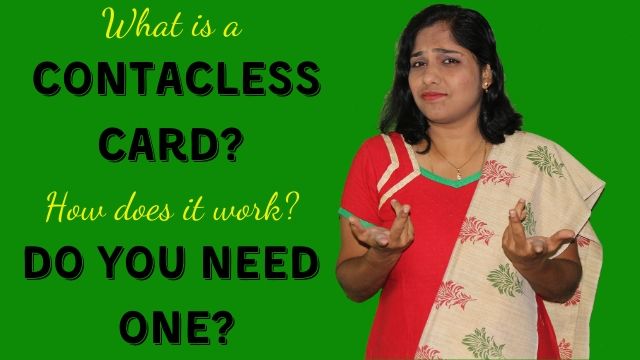 In last week's video I shared how to get a SBI contactless card via the YONO app. Among the various types of issued by banks, contactless card is one type.
There are both debit and credit cards that are contactless.
In today's video I'm going to explain what a contactless card is and what are its features and benefits.
So first, what is a contactless card?
While we shop we usually swipe our card or insert it in the POS machine and type in the PIN number.
But with a contactless card, it is enough if we take the card close to the POS machine. Ideally, the card has to be very close – at a distance of 4cm, for the transaction to go through.
Once you take your card that close or tap it on the POS machine. You don't have to enter a PIN. Once the card gets close enough to the machine, the green light will glow showing that the transaction went through.
Your contactless card will have a small wifi kind of symbol. For the same reason, the card is also called a wifi card.
Similarly if the POS machine also has a wifi-like symbol, then it means that you can use your contactless card on that POS and make a transaction.
However, if the contactless feature is not enabled in the POS you are shopping, or if for some reason you do not want to use that feature, you can still swipe or insert your card, enter the PIN and make a regular payment.
That is you can use your contactless card just like your regular card as well.
The technology that this card uses is called Near Field Communication (NFC) where radio frequency is used to establish contact between the card and the POS machine.
So let's see the benefits of a contactless card.
The first benefit is the speed and ease of a transaction.
And if you are worried whether the transaction is safe or not, there's nothing to worry. The card is completely safe as it uses chip and encryption technology.
Further you don't have to handover the card to the sales person, and you don't also have to enter a PIN number when you have other people nearby.
You can use your contactless/wifi card for up to Rs. 2000 per transaction.
Interestingly, according to a report, about 60% of transactions in India are below Rs. 2000.
Contactless cards are available as both Visa and Mastercards as of now, in India.
And banks like SBI, ICICI and Axis are the leading banks issuing contactless cards.
If you want to apply for a contactless card in SBI, you can do so using the SBI YONO app. To know more about the procedure, check out this video: