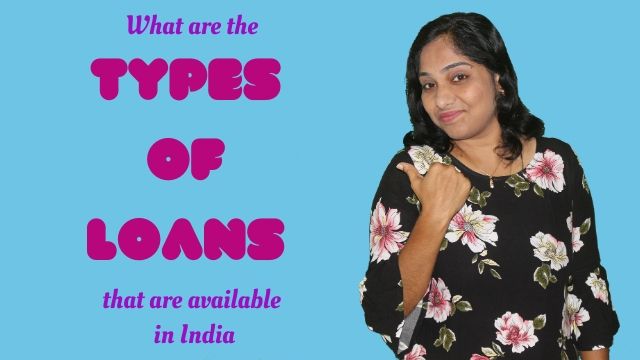 Loans form a crucial part of any person's life. I am sure everyone of us has availed at least one loan in our lives.
Some of us, more than one.
Availing a loan helps us get the required amount of money for a crucial expense or an emergency expense.
We then pay the amount back with a certain amount of interest in instalments.
Most people end up getting a few of the most popular loans because they lack knowledge about other loans.
This video is to shed light on the types of loans available in India so you can choose to avail the best loan that suits your requirement and financial profile.
Personal loan
One of the most popular loans is a personal loan. Interestingly, it is a costly loan because the interest rate for this loan is on the higher end – somewhere between 15%-20%.
A personal loan is sanctioned to someone based on his/her credit score and financial profile.
No collateral is involved in a personal loan and hence this falls under the category of unsecured loan.
You can use the money from your personal loan to pretty much make any kind of purchase you want.
Home loan or housing loan
Everyone has a dream of buying or building a house of their own. But houses don't come cheap.
You need a lump sum amount to be able to build or buy a house or acquire a land to build a house.
It is highly unlikely that a commoner will have that lump sum amount readily available at hand, and that's when home loan comes for your aid.
You can avail home loan not only to buy a new house, but can also for remodelling your house or for purchasing a land.
The interest rate is usually around 8%-8.5% and the tenure is longer in the range of 20-30 years.
If your credit score is high, your interest can get lower.
Getting a home loan also gives you tax benefits!
Education loan
When you have your education related expense to pay for, you can avail an educational loan.
You can use the money to pay your college fees either in India or abroad. And depending upon the lender, you can use the money also for vocational courses, part time degrees, exam fees and so on.
The repayment period is usually longer.
Gold loan
One of the most common and easiest to get is the gold loan. The procedure is very simple and straightforward.
You don't have to visit the bank more than once and don't have to submit a lot of documents.
You can get the money in your account the same day, usually in a few minutes.
To know more about gold loan, you shall visit this page.
Agricultural loan
These loans help farmers to meet the expense of farming. The interest rate is usually in the normal rate.
You might have to submit documents relating to the land you own, and submit proof of the type of farming you do to get approved.
Depending upon the lender the payback time can be longer or shorter.
You can use the money from agri loans to do crop cultivation, or to purchase agricultural equipment.
Loan against FD and PPF
With your Fixed deposit account and PPF account, you can avail loans based on the investment amount you have made.
For a PPF account, you can apply for a loan after 3rd year until 6th year after you have opened your PPF account.
The maximum loan amount that can be availed is 25% of the invested amount at the end of the second financial year preceding the year in which the loan can be availed.
The interest is 2% more than the interest you get for your investment in PPF.
For loans against FD the interest rate is 1%-2% more than the interest you receive for your FD investment.
You can avail about 90% of the amount you have invested in FD as loan.
For both these loans the collateral is the amount you have in your PPF or FD accounts.
In case you fail to repay, the corresponding amount will be debited from your PPF or FD.
Vehicle loan or car loan
When you plan to buy yourself a car or a two wheeler, you can avail a vehicle loan to arrange money for the purchase.
The interest rate is usually around 9%-10.5%. You need to submit your income proof to avail this loan.
Depending upon your income, you can avail up to 90% of the amount you need for your vehicle.
When you avail a vehicle loan, your newly bought vehicle will be registered in the name of the lender.
Once you repay the loan amount, you can get the RC in your name.
In case you fail to repay the loan, your vehicle will be seized.
Loan against Life Insurance Policies
Only policies that are eligible for loan can be used to avail loan.
The interest rate is around 14%. You can avail about 80%-90% of the policy value as loan.
You can use the loan amount for any purpose as you wish.
The policy will be assigned in the name of the lender until you repay the loan.
Small business loans
If you want to start a small business, or want to improve your already running small business, you can avail this loan.
Depending upon the lender and your credit score, the interest rate will be around 14%-15%.
You are eligible for this loan only if you have been filing your tax returns properly.
Lenders also look into your credit history, your business proposal, your asset value and other things before approving this loan.
Overdraft
Overdraft facility is usually available in current accounts where businessmen can either withdraw a specific amount or complete a transaction even when the account balance is lesser than the amount required.
I have talked about this in detail in another video where I have explained the types of bank accounts in India and their features and benefits.
Check out this video to know more about this:
As to how much overdraft is allowed depends upon your account's current standing.
Overdraft facility is also available for salary accounts where you will be allowed an overdraft of up to three times of your salary.
Banks do charge interest for the amount you avail as overdraft and the rate changes from bank to bank.
Conclusion
When it comes to loan, you have a variety of options. I have not covered all options in this video, but have explained the most common ones and the most useful ones.
By knowing about these loans you can pick the one that suits your needs.
Hope this post helped you with that.